Airflyte Plaques

We proudly offer the line of airflyte plaques and awards.
Please click the photo to enter the catalog and see everything that we offer in this fine line.
Rising Stars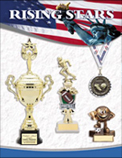 We also proudly carry the Rising Stars line of awards.
Click on the picture to view the Rising Stars Awards Catalog.